Description
We are now ICC-ES listed for our Fabreeka-TIM® structural thermal break!
Please see ICC-ES Listing Report No ESL-1164 for USA and ESL-1165 for Canada at www.icc-es.org.
Fabreeka-TIM® structural thermal break pad / connection, or thermal insulation material (TIM), is manufactured from a fiberglass-reinforced laminate composite. It is considered a green product for its energy savings with regard to energy loss caused by thermal bridging. In addition it is proven to have high compressive strength combined with resistance to thermal conductivity. Made from a fiberglass-reinforced composite, Fabreeka-TIM® has a per-inch R-value of 0.56 (BTU/Hr/ft2/in/°F = 1.8) and is far superior to steel (R-0.003) or concrete (R-0.08), providing a structural thermal break between flanged steel framing members. The primary benefit of Fabreeka-TIM® is that it maintains structural integrity while minimizing heat transfer.
Thermal Insulation Material TIM®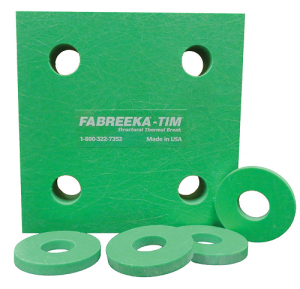 STRUCTURAL THERMAL BREAK KEY FEATURES/BENEFITS
• Thermally efficient, energy-saving construction
• Eliminates potential condensation and mold
• High load capacity maintains structural integrity
• Low thermal conductivity reduces heat loss
Fabreeka-TIM® Washers and Fabreeka® Bushings for Structural Connections
Fabreeka-TIM® material is supplied in sheets or cut to size per customer drawings and/or specifications and is available in thicknesses of 1/4" (6.4mm), 1/2" (12.7mm), 3/4" (19.1mm), 1" (25.4mm) and 2" (50.8mm). Precision water jet cutting is available for holes and special joints.
Fabreeka-TIM® material is also supplied as thermal break washers for the bolted connections between external and internal steelwork. For optimal thermal break, the area around the fastener hardware should be taken into consideration. In addition to the Fabreeka-TIM® plate, Fabreeka recommends Fabreeka-TIM® thermal break washers and bushings made from Fabreeka® material.
Connection example: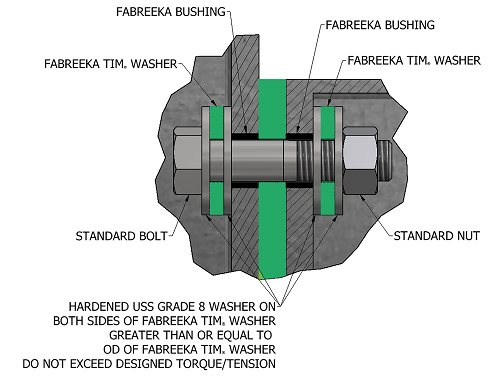 Why Choose Fabreeka-TIM® structural thermal break?
Made in the USA
ASTM Certified
Meets UL certification
ROHS II compliant
Used to achieve LEED certification
Enhances building envelope performance
Aids in meeting ASHRAE 90.1 and 189.1 energy standards
Independently tested and certified to published specifications
Lot Control – repeatable, certified product every time
In-house Quality Control
Stock on hand in 1/4″ (6.4mm), 1/2″ (12.7mm), 1" (25.4mm) for quick turnaround times

Also available in 3/4" (19.1mm) and 2" (50.8mm) thick

Precise, smooth cutting by water jet
Application engineers available for technical support
Best value added thermal break solution for shear connections to help lower energy costs
Exceptional customer service and follow up
Ultimate Properties of Fabreeka-TIM structural thermal break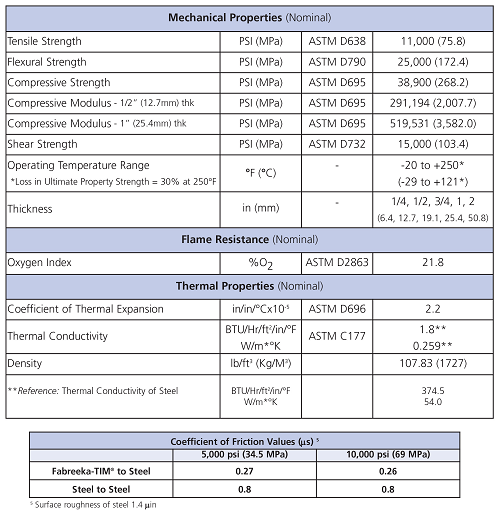 Northeastern University in partnership with the Charles Pankow Foundation, Simpson, Gumpertz & Heger, and Klepper, Hahn & Hyatt studied the subject "Thermal Break Strategies for Cladding Systems in Building Structures"
Please see our Fabreeka-TIM® brochure and design guide for additional information on our thermal break product offerings.